My father – Sidney L. Moore – came to Hartwell, Georgia in 1964 looking for a nice lake lot in an area with building restrictions on which to build an A-frame cabin for our family to use on weekends. At the time, we lived in Athens, Georgia and he was traveling extensively for a company headquartered in Buffalo, New York. He had been hired after graduating from the University of Georgia in 1953 – in his words – "as a Southerner to call on Southerners." He always thought this was amusing, but said it had given him the opportunity for a job out of college. He had progressively taken on more and more territory and was traveling extensively in 49 of the 50 states and several countries abroad.
Lake Hartwell was only two years old when we first came. My father could not find a lot on which to build in an area with those building restrictions. I heard him say many times that "he quickly surmised he must not be the only odd-ball that would want to protect an investment." Consequently, he found and bought a small tract of land – cut a road into it – put in the utilities – and got "right in the middle of it and built an A-frame." With building restrictions on the remainder of the lots, he began advertising in Atlanta and Athens – meeting prospects on the weekends and selling lots. That first development did quite well so he began buying and developing additional properties.
In 1969, my father said it had become debatable which was the full-time job and which was the part-time job. At the time, he was traveling in excess of 100,000 miles per year by plane and another 40,000 per year by car. He had company cars at 3 different U.S. airports and one "at home" in Athens. He decided in 1969 to "no longer avail himself of the privilege of continuing to travel for the job with the chemical company." He decided instead to make Hartwell, Georgia our home and go into the development business full-time.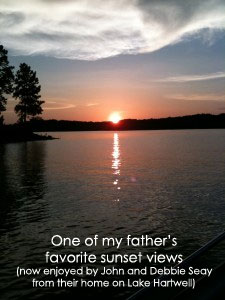 The rest is history – as my father worked 7 days per week from 1969 until his untimely death on Sunday, January 31, 1993. In the 24 years that we had lived full-time in Hartwell, he was directly responsible, through his out-of-state advertising, for bringing new residents to the area from 38 states. I heard him say – hundreds of times – "there is no better place to live on a year round basis than the Piedmont area of Georgia and South Carolina – if you like 4 very distinct seasons – none severe." Over the years, my father contributed so much to this entire area – and sincerely loved Hartwell and Hart County. There is no question whatsoever, that those of us living here will benefit for years to come as a result of his efforts. He developed a large portion of the Georgia side of Lake Hartwell almost single-handedly and did several of the larger developments on the South Carolina side. As a result of his efforts, property values have increased in our developments – on average 15% per year – since 1964. As he always said, "that's not bad."
My father always reminded me "brevity is the essence of eloquence." It's very hard however to keep it short if he is to be duly complimented on what he contributed to all of Hartwell and Hart County.
Sincerely,
Jimmy Moore